Top 5 Apps to Learn Piano Online
/
February 24th, 2021
/
There are currently 0 comments
So you've decided to learn the piano? Amazing! Welcome to an incredibly rewarding adventure that will be sure to get your creative juices flowing as you discover your own sound!

Today we wanted to take some time to review some of the best online piano learning apps on the market to make your learning experience easy, fun and most importantly, accessible to your needs. Our Piano Experts have completed the research so you don't have to and have picked out their favourite apps for learning piano online!
So let's get started so you can start playing!

If you are still looking for your first piano, view our starter piano range!



When it comes to learning piano, we all have our own unique learning speed and aptitude. Just because something works for your friends, doesn't mean it will work for you! With so many apps out there, sometimes it can quite a lot of time and effort to choose an app suitable for you and works towards your needs, no matter your age.

Kicking things off is the incredibly user friendly Jungle Music. Whether you are an absolute beginner or returning to the piano after a lonh break, this app offers bitesize, easy to follow steps and interactive guides to help you with the fundamentals of learning the piano, particularly focused towards younger players. Jungle Music's approach to diguise music learning as an interactive game with fun characters and tasks makes learning to read music notes in all clefs playful and fun for children. Perfect if you've just brought your youngest their first piano to try!
Pros:
Great for learning basic notation with clear and concise instructions
Free!
Cons:
Next up we've got Simply Piano, possibly one of the highest grossing and most popular piano learning apps out there.

There's a reason this app is so popular as it flips the 'traditional' approach to learning piano completely on it's head and allows users to play songs that are releveant, modern and meaningful to them.

Overall Simply Piano is well rounded and useful app with much to offer. Especially useful if you have an acoustic piano, as there is no need to connect to your instrument using a cable and the device is able to simply detect the notes through your phone. The app's interface is simple to follow, so children and adults can use it seamlessly and offers great functionality.

One thing to note however, if you are using an acoustic piano, your piano will need to be tuned to standard tuning for the app to pick up your sound correctly, read more on tuning your piano correctly here.


Pros:
Uses your device's built in microphone to give you a fully interactive experience.
Helps develop aural skills with fun "guess the note" games
Uses your devices Microphone – Which means no cables required, and you can also use it with an acoustic piano.
Cons:
Limited functionality unless you pay for the subscription; although many reviews suggest it is well worth it!
Piano Academy by Yokee is up next and much like Simply Piano offers users an easy to follow series of learning tools to help make the learning experience fun and engaging. The tutorial videos in particular, although rather short, give you some very clear instructions on how to learn the basics of music reading and piano playing that are incredibly accessible and usable for all ages. The real time analysis of your playing helps you develop and hone your skills with ease whilst offering a satisfying user experience.


Pros:
Microphone or MIDI connectivity"
Tutorial Videos
Real-time analysis of your playing
Cons: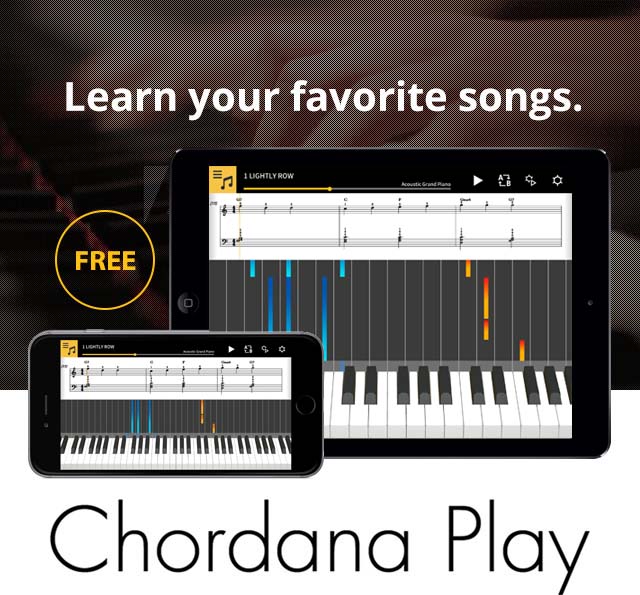 It's no secret that we love Casio – and the Chordana app is no exception! A triumph that features an extrememly easy to follow interface, full control of your instrument's on-board features, and a large array of built in lessons. Of course the only negative being that this app is only compatible with casio products such as the CT-S200 and CT-S300.

Pros:
Easy to use interface designed to work seamlessly with your Casio digital piano
Large lesson library, completely free of charge
"Follow the notes" and lesson functions
Learn about all the best known classical composers
Import your own sheet music as PDF's
Cons:
Only compatible with certain Casio models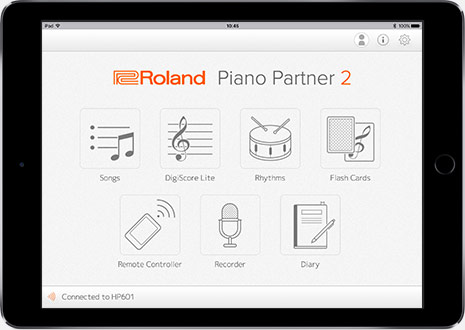 Last, but certainly not least is Roland's Piano Partner 2. Much like Casio, Roland have also used their extensive knowledge of technology to create another easy to use app with plenty of headroom to cater for beginners to professionals. Free to download on iOS or android, providing you have a Roland digital piano – This app is compatible with the likes of the FP-30 and even higher end digital pianos such as the GP609.

Pros:
Easy and clear interface designed to work with your Roland digital piano
"Digiscore Lite" to access your Roland's built in song library.
Games and flash cards to help you learn
Remote control interface for your piano's built in features and functions
Connect wirelessly via your piano's built in bluetooth connection (Model dependant)
Cons:
Only compatible with Roland Digital pianos

So there you have it, 5 of the best apps out there to suit all of your piano needs! We hope this quick guide to some of the best piano learning apps around has helped you get a rough idea on what's out there and how you can begin your musical journey! If you have any further questions, or would like help picking up your first piano, our team of expert piano specialists are on hand and ready to help today!